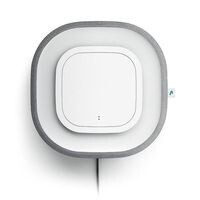 Aura Air. The world's smartest air purification system
SKU 00004
Product Details
Aura Air - the world's smartest and most compact professional air disinfection, purification and monitoring system.

It is not only an Air Filter, but also a Carbon Monoxide and Fire/Smoke detector, controlled by its own App that compares both the real-time Indoor conditions against actual local pollution outside.
The unit is just 37.5 x 37.5 x 15cm in size and designed to be wall or ceiling mounted and powered by a standard mains plug. Each unit will purify a 60 cubic metre room (25 sq m), cleaning all the air in the room 6 times every hour.
It features two patented technologies, a special copper-impregnated HEPA filter and a Sterionizer, specifically targeted at significantly reducing viruses, bacteria, mould, fungus and MRSA. In addition, its HEPA filter reduced CO2 and removes both fine and large pollution & pollen particulates (PM2.5 & PM10) as well as Volatile Organic Compounds (VOC) from burnt fuels and odours via its integrated Carbon Filter.
It is targeted specifically at Hospitals, Care Homes, Dentists, Doctor's Surgeries, Cancer Care Wards, Care Homes, Children's Bedrooms as well as blocks of Flats and Schools, since the App can monitor multiple units at once.
The Aura App can be personalised to provide specific warnings for Pregnant women, Children, the Elderly, Asthma sufferers, those with other Allergies and Heart Conditions. The App can detect high levels of dust, as well as pollen from different trees and grasses. The App also compares the indoor condition vs the local outdoors - warning you when it is not recommended to go outside (even for a run or bicycle ride!). The App supports up to 4 Filter Systems. For monitoring and analysing 5 or more Filters, contact Adjutor Wellness for the B2B version of the App.
Save this product for later